News
News
News and reports of recent events are displayed on this page. Archived News
OWS Get Together 2017 - Poland
September 03, 2017, 02:57:57 PM by webmaster.
The pictures of the OWS Get Together 2017 have now been uploaded.






More picture here


| | | 0 views
Wolf Cub Sleep-over and BBS get together
December 31, 2016, 02:04:27 PM by webmaster.
Ten Wolf Cubs from 2nd Goring and Streatley, joined five Wolf Cubs from 1st Upper Rissington took part in a Wolf Cub Sleepover and BBS Get Together.

The Wolf Cubs arrived at the 1st Newbury Scout hut at around 14:00 on Saturday, all very smartly turned out in their uniforms. After Grand Howl, the Cubs played a few 'get to know you' games and then some favourite cub games. All accompanied with the warmth of the log burner in the hut.

The 1st Newbury Scout hut has a very lovely camp fire circle so the Cubs proceeded to build a very large camp fire and learn about the correct way to do it under the instruction of some scouts. We would be having a camp fire later, but first we would have a small hike around Newbury. The hike would take us along the towpath of the Kennet and Avon Cannel and then through the Town Centre.


Full Story | | | 231 views
Senior Scout Jack Gains the Grand Scout Master Crown Award
June 19, 2016, 06:06:55 PM by webmaster.
Senior Scout Jack after many years in the 2nd. Goring & Streatley BBS Scout Group and passing many tests and badges to develop good citizenship by forming his character and developing skills in leadership, observation, obedience, self-reliance, inculcating loyalty and thoughtfulness for others; service to the public and promoting his physical, mental and spiritual development has finally achieved the highest accolade award for a Scout, that of the 'Grand Scout Master Crown Award' which is identical in the training and skills to be achieved as required for the Boy Scout Association's 'Queen Scout Award' before this changed in the 1960's. The last Senior Scout in Goring or Streatley to gain such an award was approximately 1958/1960 this demonstrates very high standard that this award commands and is acknowledged both publically, by employers and also counts towards university entrance.


Full Story | | | 267 views
St. George's Day Parade & Visit 2016 - Sherborne, Gloucestershire
May 22, 2016, 08:02:40 PM by webmaster.
This year's Association's St. George's Day Parade and Service took place in Sherborne, Gloucestershire where a new BBS Scout Group had just been formed.

The main parade comprised contingents from four BBS Scout Groups in the Southern Area. The parade was led by a bagpiper and drummer so it was easy to maintain a good marching pace and all in step and how very smart the Scouts, Wolf Cubs and Beavers looked marching along in step. The parade was just over a mile long to the beautiful Mary Magdalene Church at Sherborne that adjoins the very historical and very grand manor house. Just before the church there was a Saluting Base occupied by the High Bailiff of Northleach, his wife and old members of the BBS from early Scout Groups in Cirencester and Gloucester. The service was prepared by David Cooksley, Chief Commissioner, led by Canon Ron Lloyd (a Scout Pre-APR Wood Badge holder) and involved as many of the scouting congregation as possible from all the groups in attendance.

After the service, the Scout Groups marched back up hill to the start point, where the 1st. Wessex and 1st. Sherborne BBS Scout Groups had camped for the weekend and had also prepared an excellent hog roast for all attending the parade. After a social gathering with the other groups, the Scout Groups dismissed and it was agreed as a very successful event with much praise for local residents, parents and onlookers, particularly on how very smartly uniformed all the Scouts, Wolf Cubs and Beavers.



| | | 0 views
Visit to The Houses of Parliament: Civics Badge
September 12, 2015, 11:07:54 AM by webmaster.
The Senior Scouts are currently training for their Senior Scout Civics public service proficiency badge needed for the Grand Scout Award (same as the Queen Scout Award) this involves a great deal of research, studying and attending presentations.

The first part involves studying the workings of Local Government at all levels, funding, voting qualifications, committees, and also the workings of the European Parliament, this was all excellently presented to them by Mr. Clive Williams, previously Chief Solicitor for Berkshire County Council that the Scouts found very interesting and enlightening.


Full Story | | | 498 views
BBS (South) Annual St. George's Day Parade 2015
June 21, 2015, 11:31:15 AM by webmaster.
This year's St. George's Day Parade took place on Sunday 26th.April in one of the villages of the Grand Scout Master, the Reverend Michael Foster, the village of Tarrant Keyneston. The 1st. Wessex as is their custom camped for the weekend just on the outskirts of the village and were blessed with good weather despite being a cold wind blowing at times. The 2nd. Goring & Streatley travelled down by coach on the Sunday and arriving just before the parade was due to march off.


Full Story | | | 639 views
Brand New Traditional Scout Hats For Sale
May 04, 2014, 12:53:11 PM by webmaster.
The BBS and BGS association is now able to provide superior quality Boy Scout and Scouter standard hats with real leather hat belts and lining strip, and all 'Made in England'. Quality hats that no others can compare with that are on sale currently elsewhere.

Scout hats have the traditional narrow leather hat belts with Scouter hats the traditional wide leather hat belts.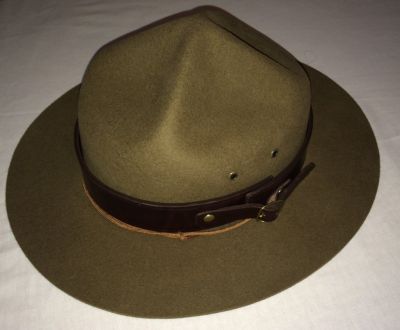 Full Story | | | 1828 views
St. George's Day Parade And Weekend Camp 2014
May 04, 2014, 11:26:58 AM by webmaster.
This year's Association's St. George's Day Weekend Camp took place in Streatley-on-Thames, Berkshire. Despite the very wet start we pitched the camp and got on with the planned weekend activities, and blessed with good weather for the remainder of the weekend. The 40 plus Scouts, Senior Scouts, Wolf Cubs and Scouters, took part in a geocaching exercise on the Saturday morning. In the afternoon there were games and a Semaphore Flag signalling competition. In the evening the villages' residents were invited to a fantastic traditional Scout Camp Fire, it was well attended and all were given burgers or hot dogs after. The camp was visited by lots of local residents out walking who complemented the Scouts on their camping standards and general organisation, 'traditional Scout camping at its best' one commented.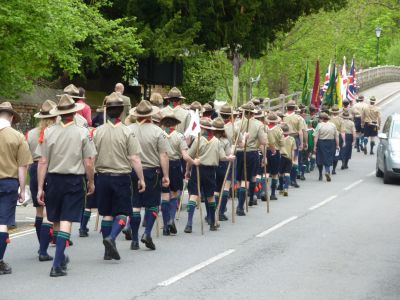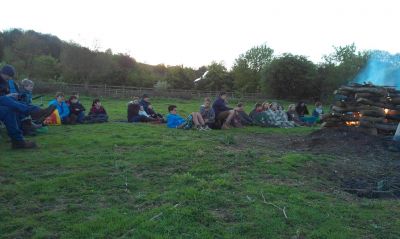 Full Story | | | 1134 views